85 – 115 – 125 KM of Authentic Cycling for all
Sunday, 17th of March 2024 – 35th Edition
125 Km – Vivero (D + 1600m.)
We add the climb of the Vivero to la Clásica. They always include it in the stages, because of its difficulty and beauty, of the Vuelta al País Vasco and the Vuelta a España when they pass Bilbao and Bizkaia. We dare to say that this route demands a fairly higher level, not only in the climb but as well controlling the bike in the technical descent that has some impressive views on Bilbao.
Same Price / Same Starting number
The inscription Price and the starting numbers are the same for the three routes and you do not have to communicate to the organization which route you are going to do. You can decide that the day of the event.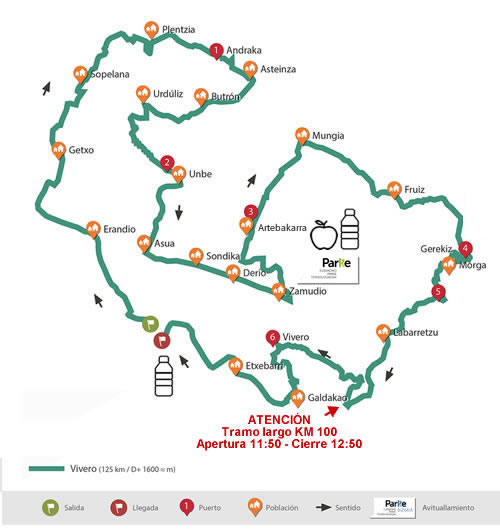 Choose wisely your Starting hour and attention for the hours of opening and closing
To be inside the event, once inscribed, you have to be at all times between de car of the Director that opens at 8.00 hours and the car that closes that arrives at the arrival at 14.00 hours. Therefor it is very important to respect the hours of opening and closing.
The car of the Director (that starts at 8.00 hours) will do the route of 115 km at 27,5 km/h and will arrive as first vehicle at 12.15 hours.
You can choose freely one of the 5 Starts at 8.00, 8.15, 8.30, 8.45 and 9.00 hours. The participant can choose the starting hour and the route he is going to do; there is no difference between the starting numbers, nor between the prices of the inscription. You do not have to communicate beforehand to the organization which route you are going to do, only you have to respect the hours of opening and closing to be inside the event so that the insurance will be applicable.
The long route opens from Km 100 (Start ascent Vivero); at 11.50 hours and closes at 12.50 hours.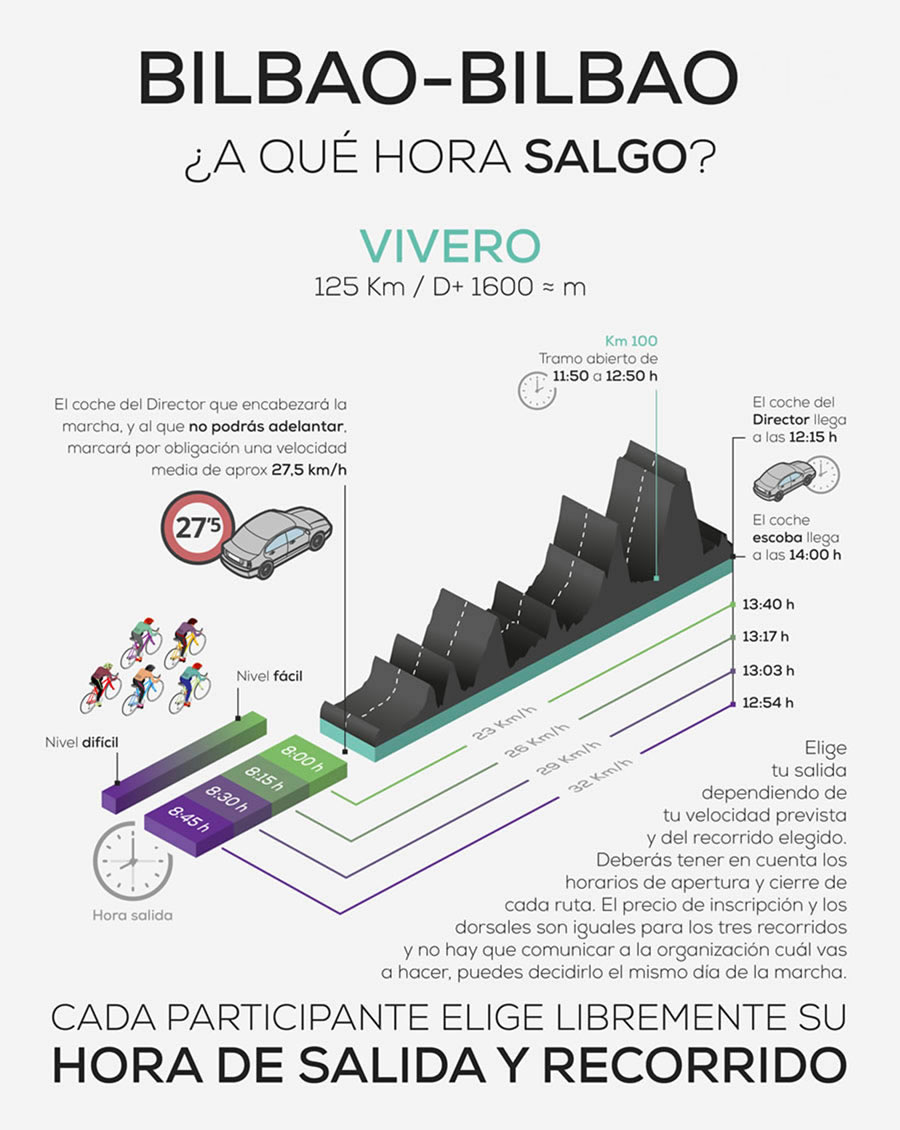 These timetables are purely indicatives to help the participant to plan his starting hour. There exist infinite combinations of starting hours/velocity that are compatible with the opening/closing hours that are not reflected here.
Average time
Starting hour
KM 0
Parque Tec/provisioning
KM 60
Short route KM 100
Open 11:50 – Close 12:50
Arrival hour
KM 125
23 Km/h
8:00
10:36

12:21

13:35
26 Km/h
8:15
10:33

12:05

13:03
29 Km/h
8:30
10:34

11:56

13:46
32 Km/h
8:45
10:37

11:52

12:38
| TOWN | REF. ROAD. | KM. RIDE | 23 km/h | 26 km/h | 29 km/h | 32 km/h |
| --- | --- | --- | --- | --- | --- | --- |
| BILBAO | | 0 | 8.00 | 8.15 | 8.30 | 8.45 |
| ERANDIO | BI-711 | 7 | 8.18 | 8.31 | 8.44 | 8.58 |
| GETXO | BI-3730 | 15 | 8.39 | 8.49 | 9.01 | 9.13 |
| BERANGO | BI-634 | 18 | 8.46 | 8.56 | 9.07 | 9.18 |
| SOPELA | BI-634 | 20 | 8.52 | 9.01 | 9.11 | 9.22 |
| BARRIKA | BI-2122 | 24 | 9.02 | 9.10 | 9.19 | 9.30 |
| PLENTZIA | BI-2120 | 25 | 9.05 | 9.12 | 9.21 | 9.31 |
| ANDRAKA (Lemoiz) | BI-2120 | 29 | 9.15 | 9.21 | 9.30 | 9.39 |
| ASTEINZA (Lemoiz) | BI-3111 | 33 | 9.26 | 9.31 | 9.38 | 9.46 |
| IGARTUA (Gatika) | BI-634 | 34 | 9.28 | 9.33 | 9.40 | 9.48 |
| BUTRON (Gatika) | BI-634 | 36 | 9.33 | 9.38 | 9.44 | 9.52 |
| URDULIZ | BI-2704 | 39 | 9.41 | 9.45 | 9.50 | 9.58 |
| UNBE | BI-2704 | 44 | 9.54 | 9.56 | 10.01 | 10.07 |
| ASUA | BI-737 | 51 | 10.13 | 10.12 | 10.15 | 10.20 |
| SONDIKA | BI-737 | 52 | 10.15 | 10.15 | 10.17 | 10.22 |
| DERIO | BI-737 | 56 | 10.26 | 10.24 | 10.25 | 10.30 |
| ZAMUDIO | BI-737 | 58 | 10.31 | 10.28 | 10.30 | 10.33 |
| PARQUE TECNOLOGICO Avit. | | 60 | 10.36 | 10.33 | 10.34 | 10.37 |
| ALDEKONE (Derio) | BI-3783 | 63 | 10.44 | 10.40 | 10.40 | 10.43 |
| ARTEBAKARRA (Derio) | BI-3715 | 66 | 10.52 | 10.47 | 10.46 | 10.48 |
| MUNGIA | BI-2121 | 70 | 11.02 | 10.56 | 10.54 | 10.56 |
| FRUIZ | BI-2121 | 78 | 11.23 | 11.15 | 11.11 | 11.11 |
| GEREKIZ (Morga) | BI-2121 | 85 | 11.41 | 10.31 | 11.25 | 11.24 |
| ANDRA MARI (Morga) | BI-2713 | 90 | 11.54 | 11.42 | 11.36 | 11.33 |
| LARRABETZU | BI-2713 | 96 | 12.10 | 11.56 | 11.48 | 11.45 |
| ERLETXETA (Galdakao) | BI-737 | 99 | 12.18 | 12.03 | 11.54 | 11.50 |
| INICIO SUBIDA VIVERO | N-634 | 100 | 12.21 | 12.05 | 11.56 | 11.52 |
| INICIO BAJADA VIVERO | BI-3732 | 108 | 12.42 | 12.23 | 12.12 | 12.07 |
| GALDAKAO | N-634 | 112 | 12.52 | 12.32 | 12.20 | 12.14 |
| ETXEBARRI | N-634 | 117 | 13.15 | 12.43 | 12.30 | 12.23 |
| BILBAO (LLEGADA) | | 125 | 13.35 | 13.03 | 12.46 | 12.38 |