85 – 115 – 125 KM of Authentic Cycling for all
Sunday, 17th of March 2024 – 35th Edition
We offer three routes of 85 km Short – 115 km Classic – 125 km Vivero so that every participant can find what he is looking for; satisfaction combined with a personalized effort throughout the roads of Bizkaia, with views on The Tower of Iberdrola (Start), The River of Bilbao, The Sea of Cantabria, the typical green valleys, The Guggenheim Museum and Gran Vía (Arrival).
Same Price / Same Starting number
The inscription Price and the starting numbers are the same for the three routes and you do not have to communicate to the organization which route you are going to do. You can decide that the day of the event.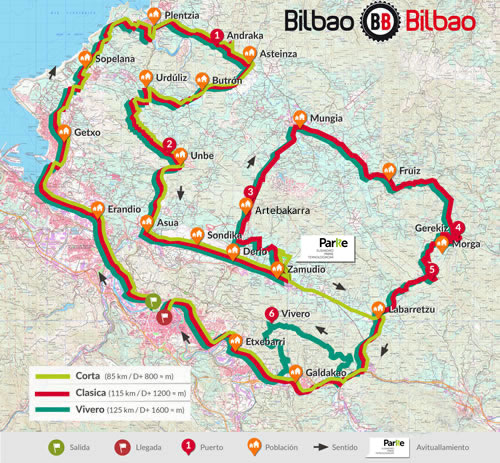 All routes from Occident Bilbao-Bilbao