85 – 115 – 125 KM of Authentic Cycling for all
Sunday, 17th of March 2024 – 35th Edition
Both are free (the one of the Centro Comercial Zubiarte until 17.00 hours!,) for the Occident Bilbao-Bilbao participants, the day of the ride.
Please, we would like to ask to respect the cleanness of the parkings. Both have toilets free for use (and the WC-Móvil available at the start).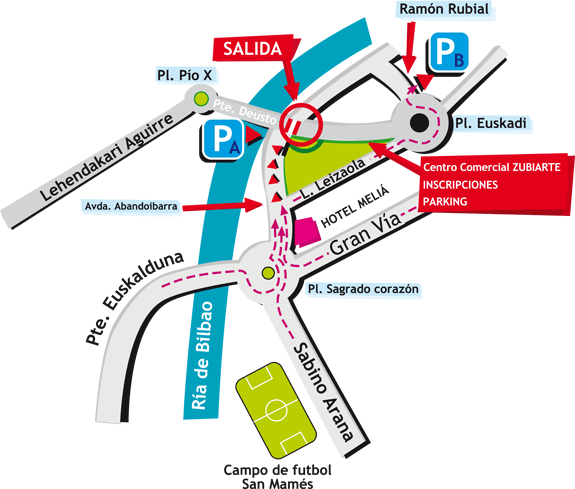 Parking A – Centro Comercial Zubiarte
Lehendakari Leizaola, nº2. 48011 Bilbao.
CENTRO COMERCIAL ZUBIARTE, place of inscription and near the Puente de Deusto (Bridge of Deusto), Start of the ride, except cars with bikes on the roof. 
The participants of la Occident Bilbao-Bilbao can enter on Sunday for free without receiving a ticket and leave free of charge until 17.00 hours. They will have to pay after that hour, but if they have consumed 15 Euros or more, there will be an additional 2 hour free parking applied. As they will have no parking ticket, they will have to contact the personel of the control of the parking who will give them a ticket for the time after 17.00 hours which can be paid in the automatic parking machines available.
Parking B – Plaza Euskadi
Plaza Euskadi s/n, 48008 Bilbao.
Calle RAMÓN RUBIAL, 50 m. of the place of inscription and the start of the ride, except cars with bikes on the roof.
Entering the parking, the organisation will hand out a paper that must be presented along with the ticket at the "Caja" situated at the second floor to be able to leave the parking without free from charge.